About us
Arvyl was set up by Vittorio Giannini in Milan in 2006: after years of well consolidated experience and collaborations with outstanding milanese jewellers, he indeed decides to start out on the exciting journey to become a metalwork stylist and create his own collections of bronze jewelry.

Bronze is a well known and long-established metal, however still avant-garde and sought after nowadays: it is in fact the use of a warm alloy, with a slightly worn out hence precious appearance, that makes Arvyl's collections special. We aim to gift our customers with a nice and simple concept: wearing these jewels brings in a joyful flair for life.

Each item from our selection is treated first through investment casting , then fully handcrafted and often enriched by the additional cast of stones and crystals.

Our brand is open towards meeting the most state-of-the-art trends: in the latest collection, the use of special enamels makes each item a contemporary fashion accessory, very well matching the newest styles.

Through careful and knowledgeable jewelry making, we endeavour to forge natural beauty in each metal craft: no artificial colour is addeed to the final product, and instead the original shade of bronze is left to spontaneous oxidation: therefore, whoever comes to enjoy wearing Arvyl's pieces of jewelry, may well decide to maintain the slightly pinkish worn out aspect by the simple use of lemon drops for maintenance.

Arvyl has taken part to Upside Moda Fair Exhibition in Milan and several other bijoux-trade events organised by Macef and Homi at Rho Fiera in Milan.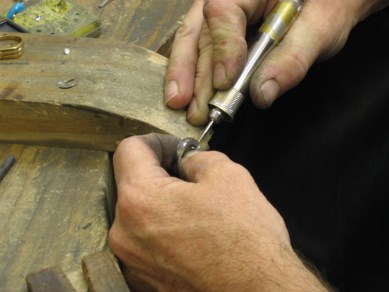 Bronze: Jewelry Making
Bronze is a copper - other copper alloy, whose combination can be obtained by the use of metals such as tin, aluminium, and beryllium.

Tin is probably the most common metal to be fused with copper; when added in the quantity of 8% to 9%, the combination will provide good characteristics to the alloy, both in terms of mechanical response and resistance to corrosion: these types of alloys can still be easily handcrafted, and therefore laminated, extruded, forged, engraved trafilated. When instead a greater percentage of tin metal is being added, hence the hardness of the material reaches higher peaks, the process can only allow the creation of metal crafts by fusion, also called casts.